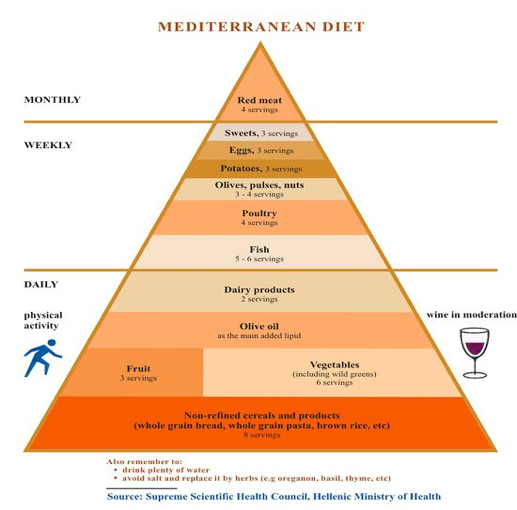 Kuzina is Greek for kitchen. The kuzina is the heart and soul of the Greek home. Families kick back, relax and reflect on the day's events while enjoying their meal and each other's company. Socializing and connecting is a key aspect of the meal experience. When family and friends visit, all paths lead to the kitchen for a little Greek hospitality.
What is in a typical meal?  Fresh and seasonal ingredients are prominent in Greek cuisine which includes vegetables, potatoes, rice, olive oil, grains, herbs and spices, olives and cheese. An entrée could include Fish or meat (lamb, poultry, pork and beef), bread and wine. Desserts span from filo based sweets like baklava to custards to butter rich cookies. Foods rooted in religious and holiday traditions are present throughout the year. The Greek prescription for good, clean eating mirrors the Mediterranean Diet. Many scientific studies have recognized the benefits of the Mediterranean Diet. The illustration outlines each level of the typical Greek food pyramid.
On this page, we look forward to sharing with you many of the wonderful recipes, traditions and cultural aspects of Greek cuisine. Opa!
For lamb lovers, a crunch and juicy Greek lamb meatball.
Author: Kenton & Jane
Recipe type: Appetizer
Cuisine: Greek
Serves: 8-10
Ingredients
1 lb ground lamb
2 garlic cloves, pressed
1 teaspoon oregano
salt
pepper
2 eggs
1 cup panko bread crumbs
½ cup ground almonds
olive oil
Instructions
In a bowl, combine lamb, garlic, oregano, salt, and pepper – mix well.
Break two eggs in a separate bowl, and mix
In a third bowl, combine the panko and ground almonds – mix.
Add some olive oil to a pan, and heat over medium-high.
Take a scoop of the ground lamb mixture and form into a ball.
Roll lamb ball in the egg and then roll in the panko/almond mixture to coat.
Add to pan.
Repeat until all lamb is used.
Cook for about 5 minutes on each side, or until meat thermometer reads 160F.
When done, place on plate lined with a paper towel to absorb excess oil.
Serve
Notes
*Serving is number of meatballs. This will vary based on size.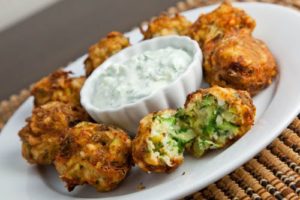 Zucchini, feta and plenty of fresh herbs rolled into balls and fried until light and crispy and golden brown! These zucchini balls are a great appetizer and can be served with tzatziki or marina sauce for dipping.
Ingredients
2 cups zucchini, grated and squeezed
1/4 cup of feta, crumbled
1 splash ouzo (optional)
1 clove garlic, chopped
2 green onions, sliced
1 handful herbs (such as mint, dill and parsley), chopped
1 egg, lightly beaten
salt and pepper to taste
~1/2 cup flour (I used whole wheat)
breadcrumbs (I use whole wheat)
oil for fryingcup flour (I used whole wheat)
breadcrumbs (I use whole wheat)
oil for frying
Instructions
Mix the zucchini, feta, ouzo, garlic, green onion, herbs and egg and season with salt and pepper.
Mix in enough flour and breadcrumbs that you can work with the mixture to form balls.
Form the mixture into balls and dust in flour.
Fry in oil until golden brown and set aside to cool.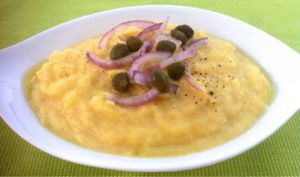 A delicious traditional veggie dish straight from the island of Santorini! Creamy and super tasty, the perfect starter for a cold winters day. If you've been looking for a fava recipe that actually tastes like the one served in Greece, then you have to try this authentic Greek fava recipe. Serve as a delicious appetizer or dip with a drizzle of extra virgin olive oil. Enjoy!
Ingredients
1 pound fava (about 1/2 kilogram). These are not broad beans but yellow split peas
2 whole onions chopped
Salt and Pepper
Olive Oil
Lemon
Parsley
Instructions
Rinse the fava.
Boil the beans together with the onions and 6-7 cups of water for 1 1/2 hours.
Pass it through a food mill or puree sieve or a food processor.
Put the puree in the pot again and warm up, add some salt, pepper and about 1/4 cup of olive oil. Let it come to a boil for a few minutes
Serve with some chopped raw onion, parsley and lemon.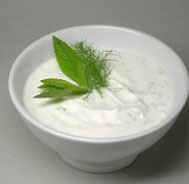 Meze is to Greek cuisine as dim sum is the Chinese, antipasto to Italians and tapas to Spanish. They are small dishes hot or cold spicy or savory. Complementing the meze are cheeses, olives and pita chips and
peasant bread. What follows are two recipes. Tzatziki (tsa-zee-key) that is utilized as a tasty dip, on
gyros, and for Roast Lamb.

Tzatziki Dip
Ingredients
1 clove garlic
2 or three walnuts
1 tsp. olive oil
½ English cucumber
1 cup of plain Greek yogurt (i.e. Chobani, Faye brand 0%, 2% or Whole)
Salt and Pepper to Taste
Touch of Dill (Optional)
Instructions
In food processer mash garlic, cucumber and walnuts with Olive Oil. Place in bowl, season with salt and
pepper to taste. Fold the yogurt into the mixture. Sprinkle Dill (Optional) Cover and Chill. Serve with
Pita Chips, vegetables, also can be used as sauce for roast lamb.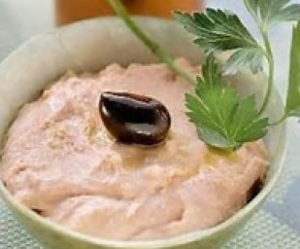 Taramasalata
This dip is a very popular dip. If you like sushi with fish roe in the center or caviar you will enjoy this dip.
When the fish roe is mixed with the ingredients, it does not taste fishy whatsoever. It is smooth and
creamy with a nice bite to it.
Ingredients
3.5 oz. tarama* (white, fish roe)
10 oz. white stale bread (crust removed) soaked in water and squeezed
¾ cup olive oil
1 medium red onion, grated
Juice of two lemons
Instructions
1. Soak the bread (crust removed) in water and squeeze well to remove excess water.
2. In a food processor add the bread, grated onion and the tarama. Blend until the ingredients are
mashed (like pulp).
3. Add half lemon juice and blend.
4. Pour in the olive oil gradually while blending (mayonnaise consistency). Blend until oil is
incorporated and mixture is smooth.
5. Taste and add more lemon juice if necessary.
6. Serve with pita breads and vegetables.